Speleogenesis in quartzites from the Ibitipoca Range, southeastern Minas Gerais
Abstract
The caves built in quartzites at the Ibitipoca Range are part of hierarquized underground drainage systems. Spelcogencsis was a two-stage process, following the sanding/piping model. In the first stage, porosity was generated by feldspar and phyllosilicates alteration and silica solution from quartz. The essential conditions for cave development were: (1) a large diference between local and regional base levels; (2) presence of rock layers specially susceptible to sanding and piping processes (fine-grained micaceous quartzite) and (3) a sequence of cycles of stability and uplift Different cave patterns and sizes can be explained by changes in one or more of the above conditionants.
DOI:
https://doi.org/10.11137/1997_0_75-87
Refbacks
There are currently no refbacks.

This work is licensed under a
Creative Commons Attribution 4.0 International License
.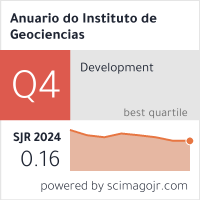 ISSN 0101-9759 e-ISSN 1982-3908