Water Infiltration and Runoff Under Different Land Uses and Occupancy in a Hydrografic Basin
Abstract
With the increase of the area of large urban centers and the reduction of vegetation cover over the soil surface, there is an increase of impervious areas, causing the water from flowing carrying sediments to water courses and reservoirs. In this way the present study aims to analyze the runoff and water infiltration in the soil under different uses and occupancy in Hydrographic Basin. For performing the tests was used the method "Cornell Sprinkle Infiltromete", while for the determination of compaction was used a digital penetrometer PLG 1020 PenetroLOG ®. Have been observed some areas where there was no runoff (native forests and urban areas) and areas of rice where had the lowest rates. As to the resistance to penetration, native forest had the highest values and the lowest were present in the use of pasture and rice cultivation. The points with higher water infiltration are under the use of native grassland, pasture and soybean, respectively, already the lowest infiltration rates were obtained at points on the use of rice. The variables of time to onset of surface runoff, average rate of runoff and average rate of instantaneous infiltration were subjected to analysis of variance, which did not reveal a significant effect of the use and management of soil, by the F test (5%).
Keywords
Simulated rainfall; Infiltration rates; Runoff rates.
DOI:
https://doi.org/10.11137/2014_2_75_88
Refbacks
There are currently no refbacks.

This work is licensed under a
Creative Commons Attribution 4.0 International License
.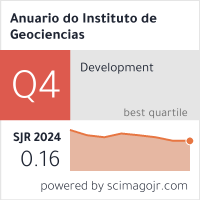 ISSN 0101-9759 e-ISSN 1982-3908