Micropaleontology of the Reef Facies of the Pirabas Formation (Lower Miocene), Pará State, Brazil
Abstract
This work presents the resulting data from microfossils analysis of the Pirabas Formation reef lithofacies, exposed in the Maçarico beach, Salinópolis city, Pará State, Brazil. The specific diversity and abundance indicates reef environment developed in warm and shallow waters with high energy and high availability of calcium carbonate. The microfossils also suggest low to moderate sedimentation rate and variable substrate composition. The intense diagenesis appears to have dissolved many specimens but the strucuture of the primary orictocoenosis was preserved.
Keywords
Pirabas Formation; Fossil reef; Microfossils.
DOI:
https://doi.org/10.11137/2014_2_100_110
Refbacks
There are currently no refbacks.

This work is licensed under a
Creative Commons Attribution 4.0 International License
.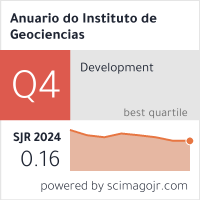 ISSN 0101-9759 e-ISSN 1982-3908