Paleoinvertebrates and Paleoenvironments of the Pirabas Formation (Lower Miocene) at Aricuru Locality, Maracanã District, Pará State, Brazil
Abstract
This work consists of a systematic study of fossil macroinvertebrates collected from Pirabas Formation, at Aricuru locality, northeast of Pará State. Were recognized 25 species including macroforaminifera, corals, macrobryozoans, bivalves and gastropods mollusks, decapod crustaceans and echinoids. Ichnofossils related to Thalassinoides , produced by decapoda crustacean and peracarids also occurs in the outcrop. The stratigraphic framework, environmental requirements and preservational features of paleoinvertebrate species of Aricuru outcrop allowed to assume that the fluctuations of bathymetry and salinity have not been very significant, but influenced the living species in the ecospace. These data suggest that the lagoon at Aricuru is its distal segment characterized by minor influence of the depositional hydrodinamic and the longer duration in the sea level fluctuations, occupied by a specialized fauna.
Keywords
Pirabas Formation; Paleoinvertebrates; Lagoon
DOI:
https://doi.org/10.11137/2015_1_31_39
Refbacks
There are currently no refbacks.

This work is licensed under a
Creative Commons Attribution 4.0 International License
.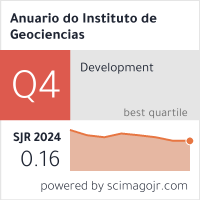 ISSN 0101-9759 e-ISSN 1982-3908