Factors Influencing on Susceptibility Forestry Fire in Itatiaia National Park
Abstract
The large number of wildfires which hits the National Park of Itatiaia (PNI) is a reason of preoccupation, because they change the landscape and cause flora and fauna lost. Thus, it becomes important to create a methodology that helps to identify factors that influence wildfire susceptibility. The objective of this work is to evaluate geomorphological variables (slope curvature, global solar radiation, slope and altitude) and weather (rainfal) in the wildfire events. To reach the objective a Digital Elevation Model (DEM) generated from topographic maps was used, and rainfall data from three weather stations present in PNI or around. This DEM enabled the creation of geomorphological variables, and rainfall data enabled the calculation of the Standardized Precipitation Index (SPI). The values obtained were compared with the Reports of Fire Occurrence (ROI), and the results show that most significant geomorphologies variables were the slope curvature and global solar radiation. The SPI index introduced new temporal indicative to better understand the behavior of the occurrence of wildfires in PNI.
Keywords
Wildfires; Geomorphological variables; SPI; Standardized Precipitation Index
DOI:
https://doi.org/10.11137/2015_1_54_62
Refbacks
There are currently no refbacks.

This work is licensed under a
Creative Commons Attribution 4.0 International License
.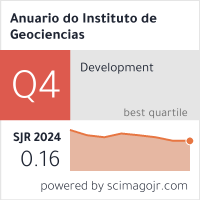 ISSN 0101-9759 e-ISSN 1982-3908