Systematic and Paleobiology of the Echinodermata Microfossils of the Pirabas Formation (Lower Miocene), Pará State, Brazil
Abstract
This research deals the data obtained from the analysis of calcareous microfossils in samples collected in Pirabas Formation that occurs at Mina B-17 Cimentos do Brasil S. A., municipality of Capanema and Atalaia beach, Salinópolis municipality, Pará State, and aiming at the systematic and paleobiological characterization. The study reveals 27 fragments of crinoids and 18 fragments of ophiuroids, represented by the family  Gorgonocephalidae and genus Ophiomusium and Ophiactis (?) and among the crinoids, were recognized the order Comatulida. The taxonomic composition, living environment and biostratinomic features these echinoderms and other associated faunal elements studied in the lithofacies at Atalaia beach allowed to considere that the fossiliferous concentration is parauthoctonous. The fragments of the echinoderms collected in samples of B-17 Mine characterize a fossiliferous concentration  allochthonous where the vertebrae were transported to the lagoon by tidal channels during storms that ravaged the sea Pirabas. The echinofaune studied keep affinity with the miocenic associations of the Caribbean Biogeographic Province, and the taxa identified corroborate the faunal exchange between regions Eastern Tropical Pacific (PLT) and Tropical Western Atlantic (AOT).
Keywords
Pirabas Formation; Ophiuroidea; Crinoidea; Lower Miocene
DOI:
https://doi.org/10.11137/2015_1_116_127
Refbacks
There are currently no refbacks.

This work is licensed under a
Creative Commons Attribution 4.0 International License
.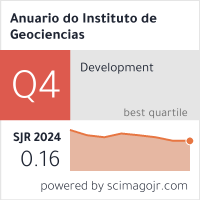 ISSN 0101-9759 e-ISSN 1982-3908