Systematic Review of the Flabellidae Family (Scleractinia) of the Pirabas Formation (Lower Miocene), Pará State, Brazil
Abstract
This research deals the systematic review of the corals belonging to the Flabellidae family, assigned to subgenus Flabellum (Flabellum). Were confirmed F. (F.) lyricum Fernandes, 1981 and F. (F.) wailesi Conrad, 1855, as well as the first record of the F. (F.) dens Alcock, 1902 and F. (F.) chipolanum Weisbord, 1971 from the Pirabas Formation. The lithological and preservational settings suggest that these corals lived only in the marine environment and therefore are allochtonnous in the biocalcirudites that occur at B-17 Mine, considered the largest areal extent of the paleolagoon of the Pirabas/Barreiras sequence.
Keywords
Pirabas Formation; corals; Flabellidae
DOI:
https://doi.org/10.11137/2015_1_128_136
Refbacks
There are currently no refbacks.

This work is licensed under a
Creative Commons Attribution 4.0 International License
.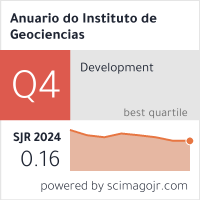 ISSN 0101-9759 e-ISSN 1982-3908